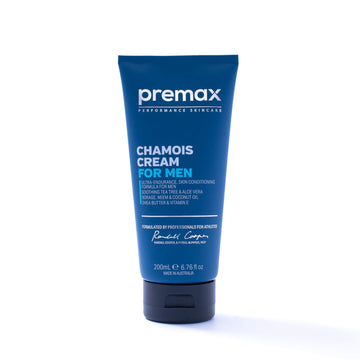 Chamois Cream for Men
A premium, ultra-endurance chamois cream loaded with natural anti-bacterial and skin nourishing herbal extracts in a male-specific formula. This performance-focused cream will keep you extremely comfortable and your skin in optimal condition on the longest of rides.
Ingredients
Aqua (Purified Water), Capric/Caprylic Triglyceride, Cetearyl Alcohol, Glycerin, Glyceryl Stearate, Dimethicone, Aloe Barbadensis (Aloe Vera) Leaf Extract, Ceteareth-20, Butyrospermum Parkii (Shea) Butter, Borago Officinalis (Borage) Oil, Melia Azadirachta (Neem) Seed Oil, Cocos Nucifera (Coconut) Oil, Tocopherol, Parfum, Xanthan Gum, Phenoxyethanol, Benzyl Alcohol, Melaleuca Alternifolia (Tea Tree) Oil, Citric Acid, Benzyl Salicylate, Citral, Hexyl Cinnamic Aldehyde, Limonene, Linalool, Methyl Ionone
Directions
| | |
| --- | --- |
| | Wash your hands, and squeeze 5-10mL onto the end of your fingers. Use more for long rides or very hot and humid conditions. |
| | Apply the cream to either your skin or the chamois in the saddle region before putting on your shorts or tights. Body-saddle contact areas are the key areas to cover well. |
| | Cycle comfortably for hours. Reapply every 3-5 hours if cycling for long sessions. |
Good to Know
-Made in Melbourne-Non-Greasy, Breathable Formulation-Proven in Elite Sport-Tested on Athletes not Animals
Key Ingredients and properties
Caprylic/Capric Triglyceride
Derived from coconut oil, this highly effective lubricant will provide long lasting protection from saddle sores
Tea Tree, Neem & Aloe Vera
Powerful anti-microbial ingredients to help fight bacteria and infection as well as soothe distressed and inflamed skin
Shea Butter & Vitamin E
Emollients that soak into your skin creating a moisture-sealed barrier keeping your skin hydrated, soft and enhancing repair
Borage Oil
Often used to treat all kinds of skin inflammation including eczema, dermatitis, psoriasis and rosacea, this natural wonder is an instant soother

Premax chamois cream has become a crucial part of my riding gear. We spend so much time on the bike so having a chamois cream that works is crucial. It not only helps on those long days, but ensures I can keep getting back on the bike comfortably day after day.
Alex Porter
Olympic Track Cyclist, 3 x World Champion, 4 x National Champion